I receive an error ('SAML-2 service niet bereikbaar') in my browser and I am unable to (de)register a course
Question: How can I solve this error ('SAML-2 service niet bereikbaar') in my browser?
Answer: You can solve this issue by changing the cookie settings in your browser. The browser needs to accept third party cookies for the (de)register a course service to work correctly.
Chrome - Clear, enable, and manage cookies in Chrome
Safari - Manage cookies and website data using Safari
Firefox - Enable and disable cookies that websites use to track your preferences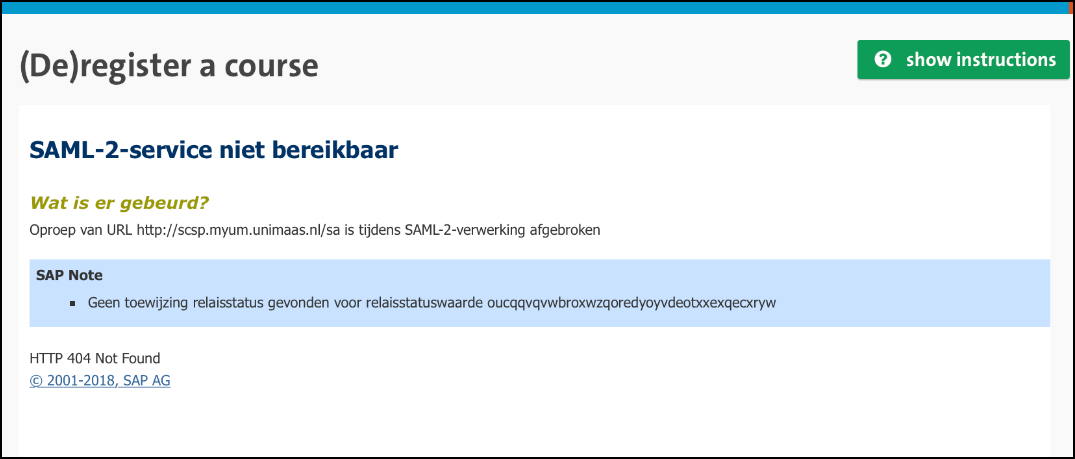 Do I need a special account to login into the Student Portal?
No, you can use your regular student UM account (ixxxxxxx) to login into the Student Portal. Prerequisite is that you are registered as a student (at least conditionally approved) at Maastricht University.
Can I suggest a link for My Links?
For students: Use the "Feedback" button in the Student Portal to send us the link you wish to be added.
For UM staff faculties: contact your head of education.
For UM staff service centres: contact your information manager.
All suggestions for links to be added are welcome. We will gather all feedback and decide which links will be added in the next release of the Student Portal.
I have a question about the Student Portal. How can I contact you?
If you have a question or the portal doesn't work, you can contact our primary contactpoint the ICTS Servicedesk. If you want to make a suggestion for an improvement you can use the built in feedback function.
I am using the Student Portal. Can I also use the other existing regular information systems? (For example: EleUM, MyUM for students, Webmail UM)
Yes. All other regular information systems are also available. In general we ask you to use the Student Portal as much as possible.
I can't seem to find all the general faculty information that used to be accessible through my EleUM Faculty Students organisation.
This information is accessible in Student Portal through the My Organisations Link. Click on the link "MyOrganisations" in the left menu.
Can I use the new Student Portal on different devices and browsers?
The new UM student portal was designed to work on all conventional devices: PC, laptop, tablet and smartphone. The Student Portal is best used on the most recent browser versions of Chrome, Internet Explorer, Safari and Firefox and recent versions of the operating systems Android, IOS, OS X and Windows. However some integrations in My Courses are not optimal yet and can best be used on PC or laptop. We are looking for ways to improve this.
Why do I see assignment deadlines with "no date specified" in my overview of deadlines?
Courses and other assignments are added in the source system (EleUM) by teaching staff and education offices. In some cases, they did not add a specific deadline date to a particular assignment. Those assignments are shown in the Student Portal with "no date specified". If you wonder if this is correct please contact your teaching staff or education office.
How can I register for new courses and exams?
In some cases the faculty automatically registers you for the courses (and exams) you are expected to take part in. Check the instructions and information from your faculty contacts & channels what you can expect from your faculty and is expected from you. Some faculties register you for the courses and exams you are expected to take part in. At other faculties you need to do this by yourself at the My Courses page. Check the information of your faculty to find out what the procedure is at your faculty.
Where can I register for a new programme or reregister for the next year of my current programme?
There is no standard procedure for all programmes. You need to contact your Desk of Education to get informed upon the procedure that applies for your situation.
What to do with Courses without programme?
Sometimes a course is not properly linked to a programme. It will be listed at the My Courses page under the header 'Courses without programme'.
In this case you should ask the Desk of Education of the related faculty to link course and programme in the right way.

Is the Student Portal the only way to access my study related information?
The Student Portal integrates all relevant study related information from several source systems into one environment. In case the Student Portal has technical difficulties you can access the information via each source system separately. Student Portal will provide you the relevant link(s) depending on the type of failure. These are the direct links to the source systems:
• 'Classic' MyUM (My Courses)
• EleUM (Course Details & My Organisations)
• 'Classic' My Timetable (My Timetable)
• Webmail (My Webmail)
Where can I find my GPA?
The GPA (Grade Point Average) can be found at the My Courses page after clicking on 'Show Results'. Per programme your faculty decides to show or hide the GPA in the Portal. If you think your GPA is not correct of should be shown please contact your Desk of Education.
Why can't I login in the Portal though my username and password should be correct?
Sometimes the cache of your browser interferes with the login at the Student Portal. Sometimes it can be solved by clearing the browser cache (by Control-Shift-Del) and then restart your browser (closing all windows/tabs). If this does not work please contact the ICTS Servicedesk.
When pinning the tab of the Student Portal in Safari, it is not possible to load the page after some time
Question: "When pinning the tab of the Student Portal in Safari, it is not possible to load the page after some time (a day). Tab needs to be unpinned, all tabs concerning the student portal needs to be closed and after revisiting the side it works again".
Answer: "This behaviour is not very user-friendly. But for a good reason: the limited period of validity of the cookie is imposed for security reasons. This leads to the described response."
What do these messages about a course mean?
'THERE ARE NO DETAILS FOR THIS COURSE.'
The course has not been created (yet) in the Learning environment. You can contact the Desk of Education of the corresponding faculty for more information.
'THE DETAILS FOR THIS COURSE HAVE NOT BEEN MADE AVAILABLE BY THE COURSE INSTRUCTOR.'
The message is clear. You can contact the course instructor for more information.
I get a blank page when I try to print my grade list.
This issue can occur when using Microsoft Edge as your browser. If you save the blank document and open this file in a PDF reader (not Microsoft Edge), your grades will show. You can also use another browser to solve the issue.
These pages will be filled with your questions and our answers so feel free to send us your comments!